Like other laser engraving products, tumblers have also been popular recently. Laser engravers are excellent for customizing tumblers with unique designs, logos, and personalization. Using the power of laser beams, these laser engraver for tumblers creates precise and intricate engravings. Popular Tumbler products include gifts, promotions, events, and branding items.
Laser engraver for tumblers offers precise control over laser power, speed, and depth. As a result, it can create intricate designs and text on various materials used for tumblers. However, stainless steel, glass, and plastics are the three most popular materials used in tumblers. You can laser engrave names, logos, monograms, quotas, and custom designs on tumblers. Laser engraving enhances the visual appearance and value of the tumblers. Therefore, laser engraver is a go-to tool for businesses, gift shops, and promotional product companies.
This article highlights the fundamentals of laser engraving on tumblers. It will help you find the most appropriate laser device for your applications. In addition, it will also give you some ideas on the type of products. By reading this article, you can choose the best laser engraving machine for tumblers for your project. You will also get some fantastic ideas of businesses you can start first.
What is a tumbler?
Tumblers for laser engraving are a type of container or drinking vessel. It is made of glass, stainless, plastic, or ceramic. Generally, tumblers appear cylindrical, yet some have narrow shapes towards the top. However, laser engraving methods typically enhance the appearance of the tumblers. You can customize detailed designs precisely with a laser engraver for tumblers.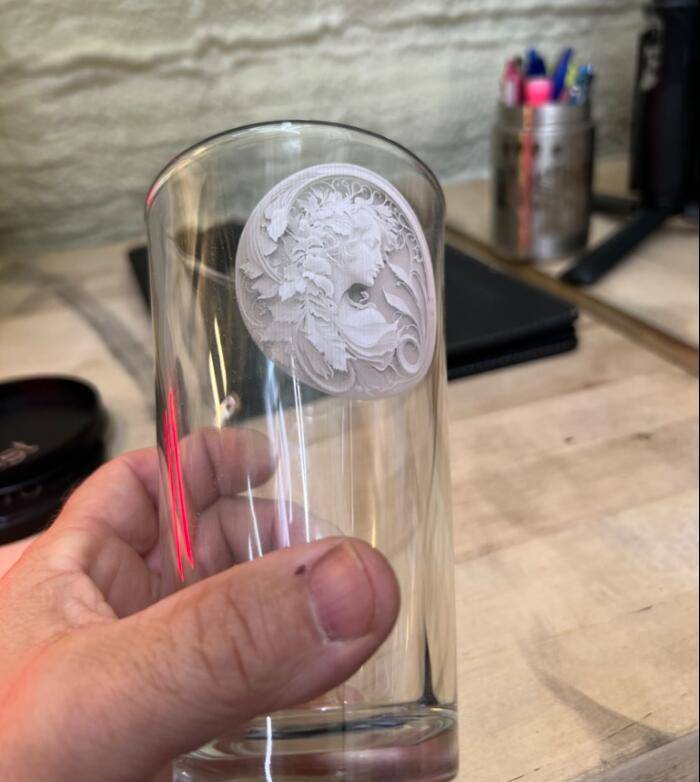 Concerning the types of tumblers, there are several types based on different structural materials. In this case, glass tumblers are suitable for serving drinks such as water, juice, or cocktails. Plastic tumblers are a lightweight and durable alternative to glass tumblers. These tumblers are ideal for outdoor events, picnics, and children's parties.
On the other hand, stainless steel tumblers are popular options for those who want to keep their drinks cold or hot for extended periods. These tumblers come with double-walled insulation structures. As a result, they are ideal for use with cold or hot beverages. Finally, ceramic tumblers are an eco-friendly option for drinking vessels.
The specific applications of tumblers may vary based on the particular types. Glass and plastic tumblers are famous for serving drinks in homes, restaurants, and bards. Stainless steel tumblers are ideal for outdoor activities such as camping, hiking, or picnics. However, ceramic tumblers are often used for decorations and collectable items.
How does roller rotary attachment engrave tumblers?
Roller rotary attachment typically comes with the laser engraver machine. It is a specialized accessory with a laser machine used to engrave tumblers and other cylindrical objects. It consists of some rollers that hold the tumbler in place and allow it to rotate as per the requirements. The general working procedure with roller rotary attachment to engrave tumblers include:
Step #1 Preparation
First, you should prepare the tumbler for engraving by cleaning the surface. You can apply any masking or protective materials. Tap or a heat-resistance coating can be an excellent choice in this case. By doing this, ensure that only the intended area is engraved.
Step #2 Mounting
After the preparation, mount the tumbler onto the roller rotary attachment. Use the adjustable roller to position it to fit the diameter of the tumbler. Now, ensure that your tumbler is secured in place. You should also ensure that the roller rotary attachment rotates smoothly during engraving.
Step #3 Setup
This step consists of two parts. One is to prepare the engraving design, and the other is to set up the laser machine. Using the recommended laser software, you can customize your design. You can also choose the appropriate laser settings in this software. However, the laser settings will depend on the material you use for tumblers. In this case, pay attention to the specific material settings.
The second part involves setting up the laser device. You can adjust the focus of the laser beam based on different heights. It would be best if you checked the lens before engraving. Ensure that the lens is clean and free of contaminants. Finally, ensure the proper safety of the operator.
Step #4 Engraving
You don't need to do anything during the engraving process unless for emergencies. The laser engraver for tumblers will automatically work based on the laser settings you inserted in the previous step. During the operation, the rotary roller rotates in a specific manner. On the other hand, the laser machine removes material from the surface to create desired engraving pattern or design.
Step # Finishing
Once the engraving is complete, the roller rotary attachment will automatically stop working. Using the screws, you can carefully remove the tumbler from the attachment. Now, you can remove the masking or protective materials from the surface. After that, you can take the necessary steps for cleaning and finishing. In this case, polishing or applying a sealant would enhance the appearance and durability of the engraving.
Choosing the suitable laser engraver for tumblers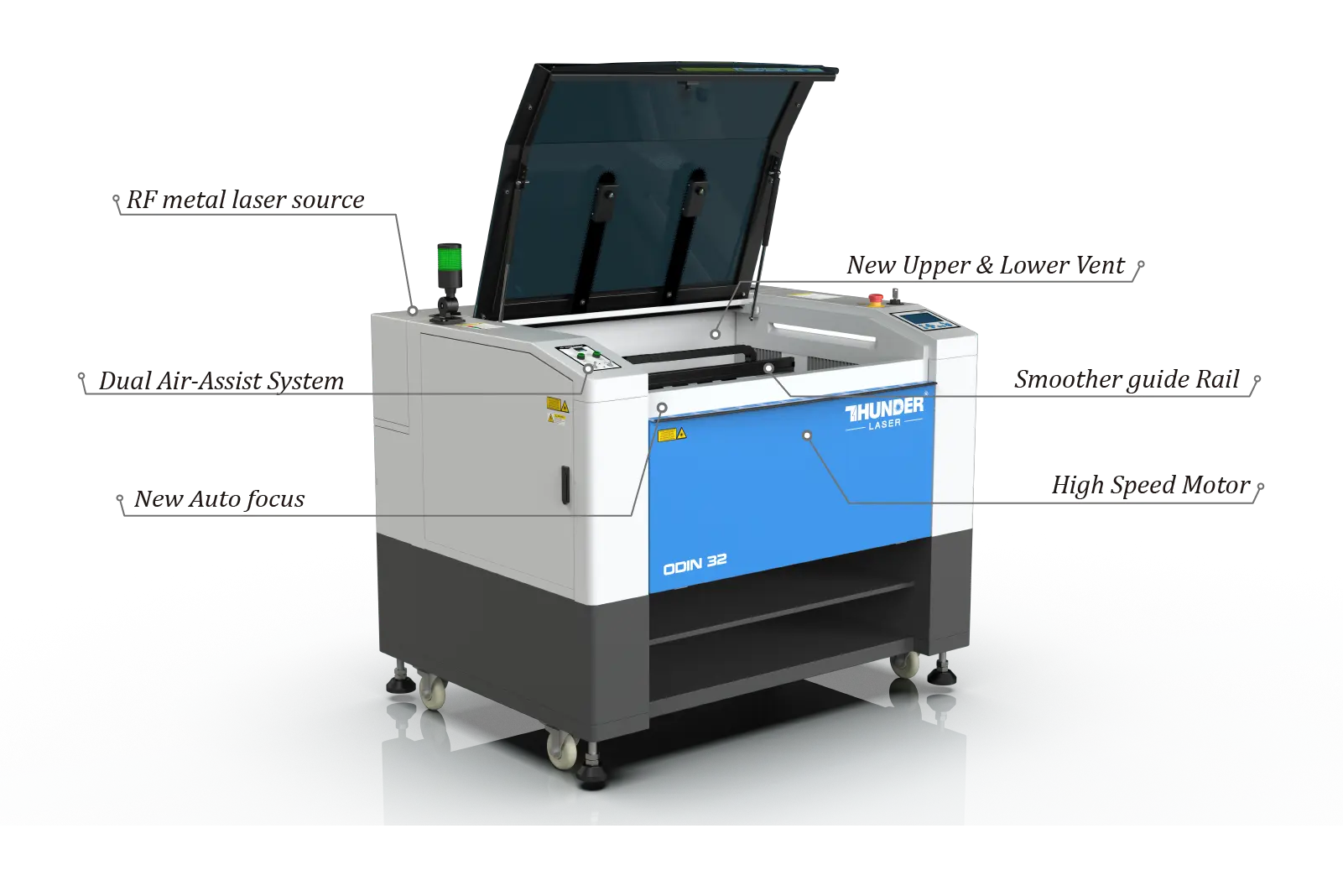 A good quality laser machine ensures productivity and customer reliability. If you run a business, you should consider a few factors to choose the ideal laser machine. The following should be considered when selecting a laser engraver for tumblers:
Laser power: Laser power is a crucial factor to consider. It determines the depth and speed of the engraving. Therefore, tumblers made of materials like stainless steel or glass require higher laser power. On the other hand, materials like plastic or ceramics may require lower power.
Working area: You should also consider the size of the engraving area. It is necessary to ensure that the laser machine you choose can accommodate the size of the tumblers you plan to engrave.
Rotary attachment compatibility: If you plan to engrave tumblers, you must need a rotary attachment. Therefore, choose a laser engraver that is compatible with this accessory. Rotary attachment allows for precise engraving on cylindrical objects like tumblers.
Software compatibility: You should ensure software compatibility with your design requirements. Look for machines that offer user-friendly software with design compatibilities. The software should also be compatible with popular file formats.
Safety features: Laser engraving machines can pose safety risks. Therefore, it would be best to look for models with safety features. You can check the protective enclosures, emergency ston buttons, and interlock.
Durability and reliability: You should look for machines from reputable manufacturers. You should also check the customer reviews to ensure reliability and long-term durability.
Budget: Set a budget for your laser engraver purchase and consider the overall cost. The total budget may include the machine, accessories, software, and ongoing maintenance costs. It is essential to balance affordability and the features and capabilities that meet your engraving needs.
Best Pick: Nova 35 80W/100W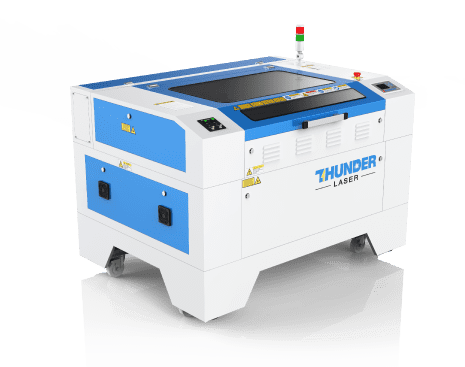 The Nova 35 80W/100W laser engraver is the best laser engraver for tumblers from thunder laser. It provides powerful laser performance, a large engraving area, and rotary attachment compatibility. In addition, it has user-friendly software, durability, safety features, and good value for money. With an 80W and 100W laser tube, the Nova 35 offers ample power for engraving various materials. All tumblers material, such as stainless steel, plastic, glass, and ceramics, are suitable for this laser machine. As a result, Nova 35 80W/100W is a versatile laser machine for different types of tumblers.
Its large engraving area of 35 x 24 inches allows for engraving tumblers of various sizes. In addition, its compatibility with a rotary attachment enables precise and consistent engraving. Moreover, user-friendly software makes importing and engraving custom designs easy. Nova 35 is highly compatible with RDWorks or Light Burn.
Nova 35 80W/100W comes with high-quality components and safety features. As a result, this model from thunder laser is durable and reliable. Safety features include a protective enclosure, emergency stop button, and interlock switches.
Popular Products of laser engraved tumblers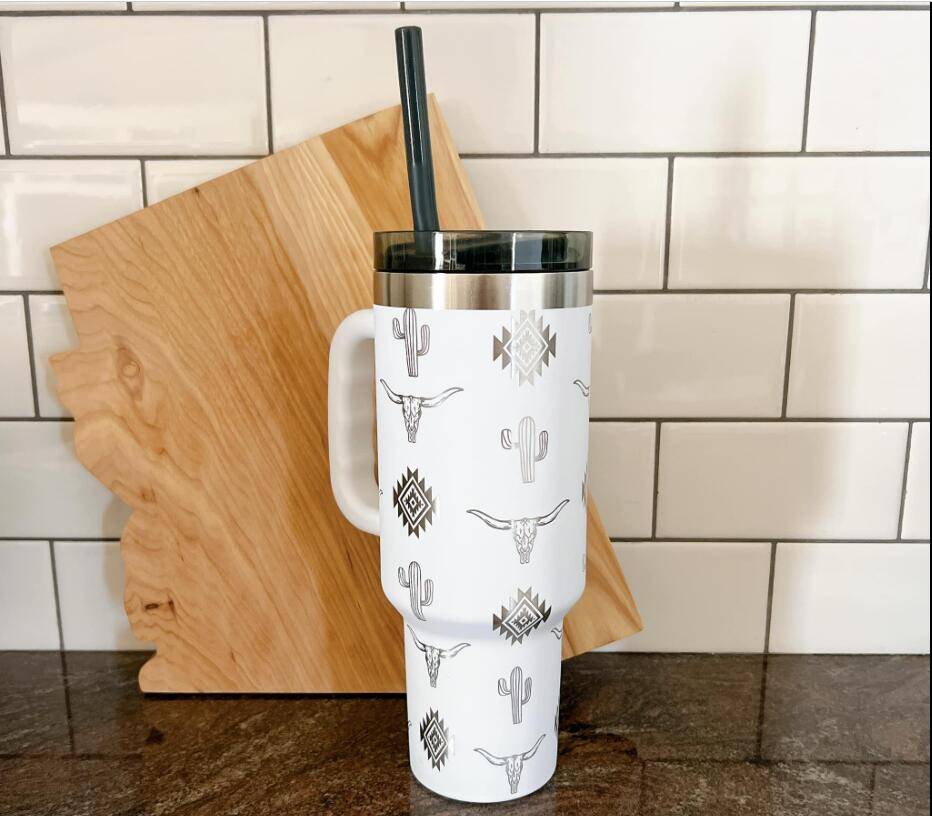 Laser-engraved tumblers have gained popularity due to their unique and personalized designs. Here are some of the best tumblers for laser engraving products:
Customized tumblers with names or initials: Many people love having their names or initials engraved on them. These custom tumblers are often used as gifts for birthdays, anniversaries, or other special occasions.
Logo or brand-engraved tumblers: Businesses and organizations often use laser engraving on tumblers. They engrave their logos, brands, or promotional messages on tumblers.
Sport-themed tumblers: These tumblers are popular among sports fans and athletes. Many people use these tumblers for game day drinks or as gifts for sports enthusiasts.
Custom artwork or designs: The laser machine allows the engraving of detailed designs onto tumblers. As a result, it can produce unique and artistic pieces.
Special occasion and holiday theme tumblers can be used for festive celebrations or as seasonal gifts. You may find these products during Christmas, Halloween, or Valentine's Day.
Conclusion
Laser engraving offers a unique and personalized way to create custom tumblers. The Nova 35 80W/100W is popular when choosing a laser engraver for tumblers. It is the best laser engraving machine for tumblers. We have already learned that it has powerful capabilities and user-friendly features. Nova 35 can work with all types of tumblers materials, such as stainless steel, glass, plastic, and ceramics.
However, contact us if you have any questions regarding the laser engraver machine for tumblers. Thunder Laser customer service teams are always waiting to answer your queries. You can also navigate to our product page to learn more about the laser machines we offer.