I. Introduction
Woodwork and detailing have always been a part of interior design and décor. However, with the technological innovation and capabilities to do more detailed work with wood, the applications have also increased. Laser wood engraving trends have increased whether you want to present a customized gift or want something unique in your home.
We will answer a lot of questions about laser cutting and engraving wood. For instance, what are different laser wood cutting signs, types of wood used, different laser wood engraving ideas, and much more?
So let's get into it.
II. Laser Cut Wood Signs
Laser engraving is not limited to wood; acrylic laser cutting is also prevalent. However, if we talk about laser engraving wood, the quality and accuracy are better than the hand knives. Besides, laser cutters make the engraving faster and more flexible per the customer's needs. You can get mesmerizing results with laser cutting and engraving on wood. Most laser cutters can cut, engrave, or mark on the wood. Above all, wood cutting and engraving fit many projects, small or big.
Here are a few pictures of laser-cut wood signs to give you an idea of what the laser-engraved and cut wood signs look like: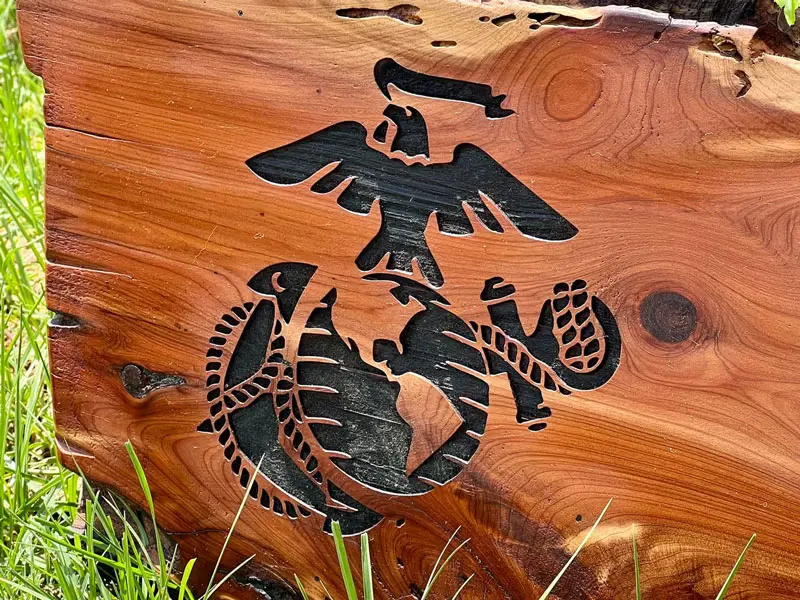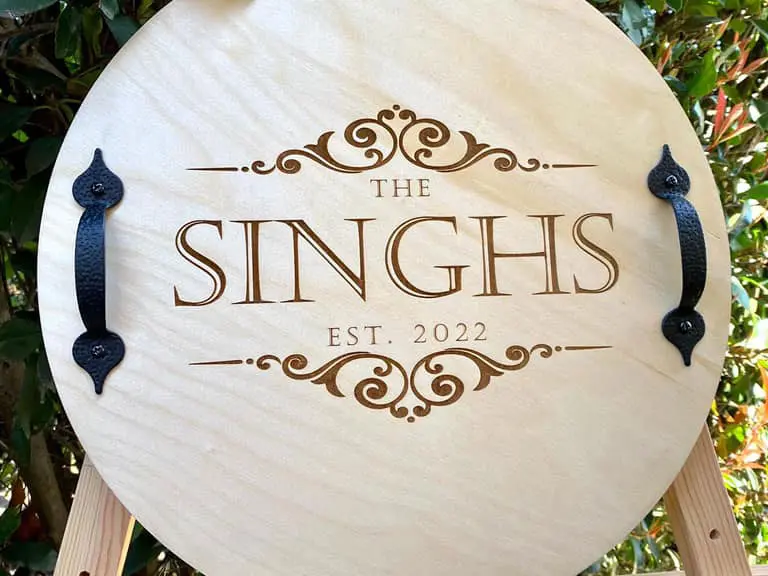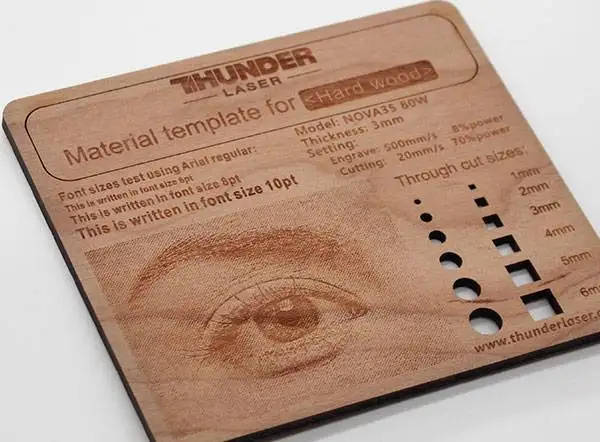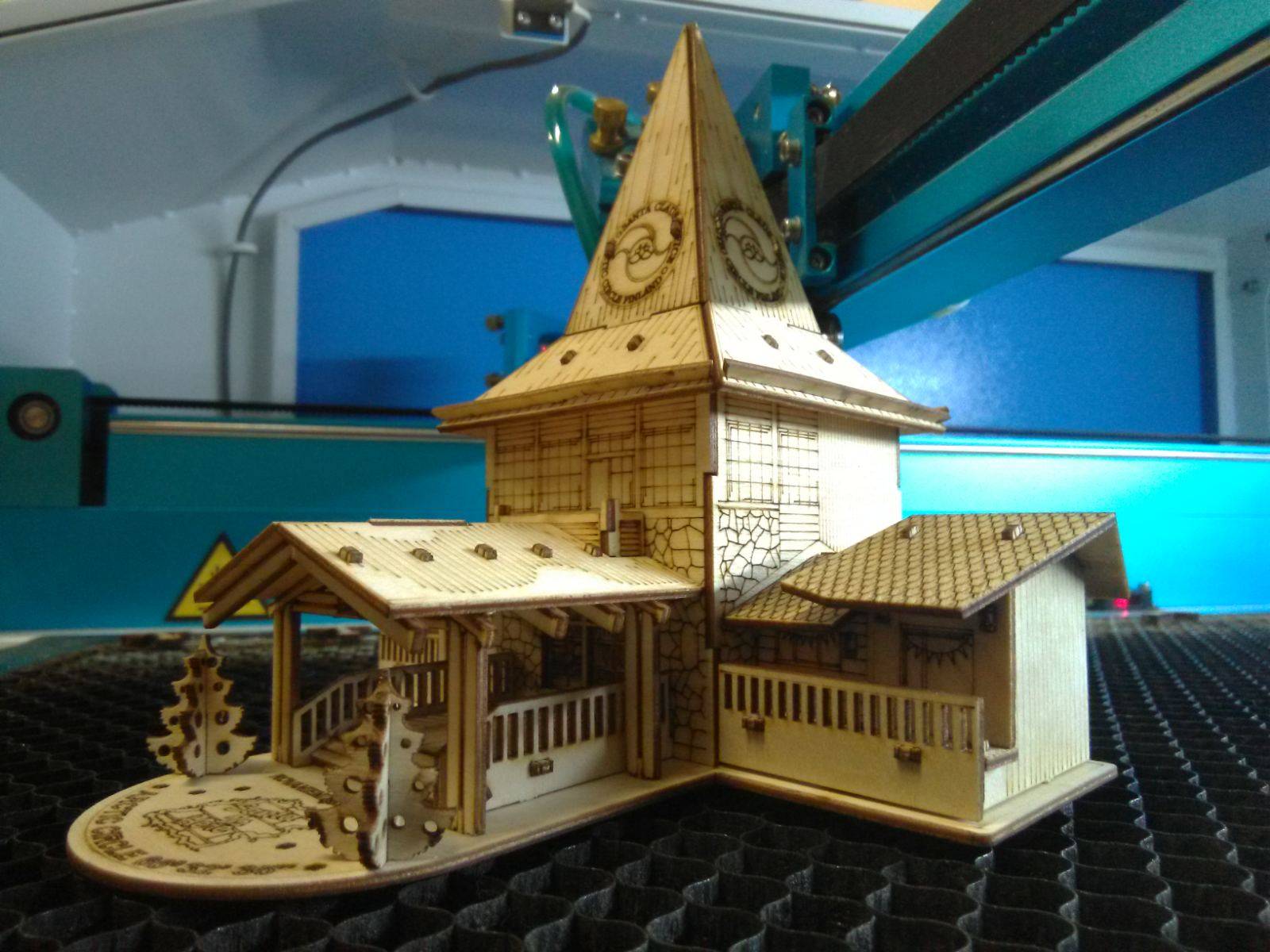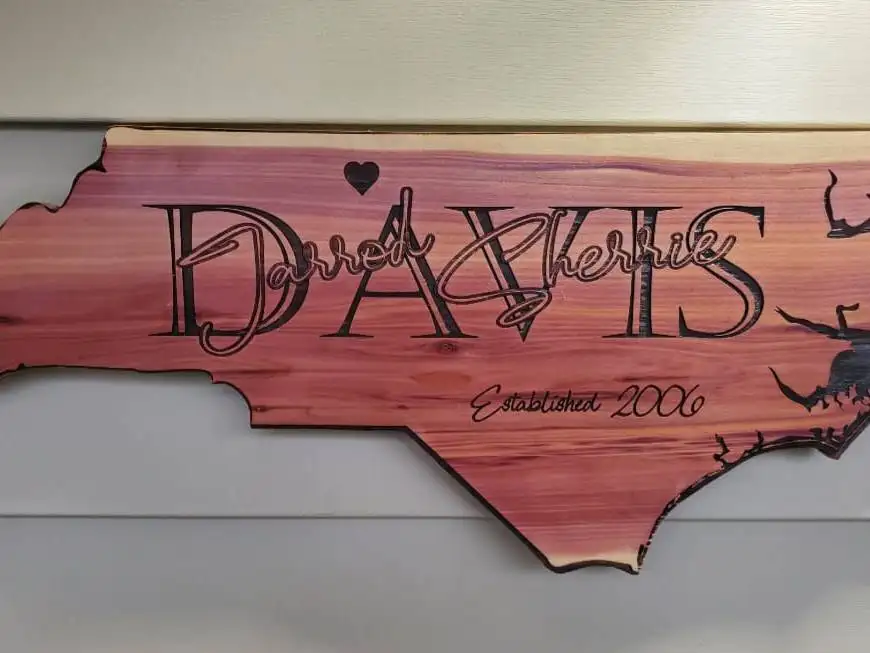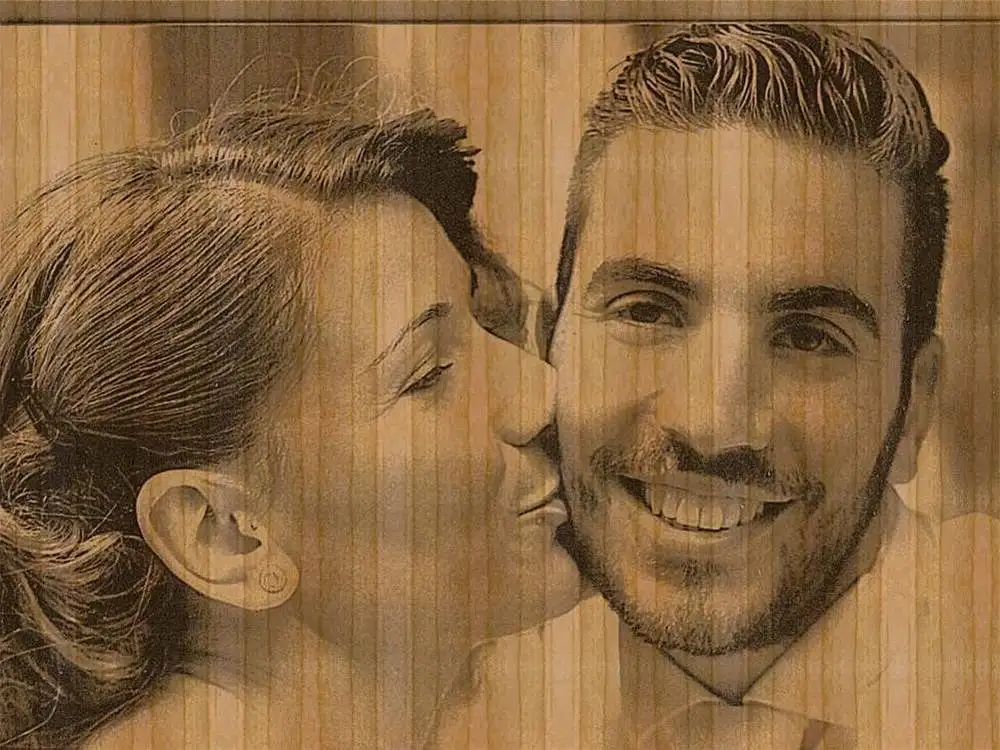 III. Wood Laser Machine
When we are talking about wood engraving and laser cutting, discussing wood laser machines is very important. There are usually different laser cutters having diverse capabilities. Generally, wood laser machines are cost-efficient and easy to maintain as compared to those for acrylic cutting.
Some laser cutters are multipurpose and work on wood, metal, and acrylic. While some edges have limited capabilities in terms of wood thickness, they can easily handle them. However, if we generally look at the wood laser engraving and cutting options, you have the following options: Diode lasers, fiber lasers, and CO2 lasers.
Which one is better?
Let's explore.
1. Fiber Laser Wood Engraving Machine Vs. CO2 Laser Wood Engraving Machine
Adopting Japan's imported motor for 5G acceleration allows for high superior engraving speed in the industry.
Laser Type: RF CO2
Work Area: 559×381 up to 813x508mm
Laser Power: 30w, 55w
Z-axis: 185mm
Regarding power, fiber laser is on the top, and this laser-cutting machine for wood is the most expensive of all technologies. The fiber laser wood-cutting machines employ a diode bank for creating laser beams. Therefore, a fiber laser is an advanced form of the diode laser. Operating this technology requires around 2000-4000 watts of output power.
On the other hand, if we talk bout CO2 laser, it is less costly and a bit less efficient. Although the technology is ancient, it is widely used for laser wood cutting and engraving. The CO2 gas inside the discharge tube of the cutter engraves on the wood and other materials. It also contains other gases, but CO2 has the highest proportion.
If we have to determine which is better, fiber laser has advanced technology and capabilities. However, the best machine doesn't mean the best option. Fiber laser is effective when you want to engrave on fiberglass, plastics, rubber, silver, chrome, ceramics, and metals like aluminum, meta sheets, brass, copper, stainless steel, etc. It also works on wood but is not suitable for small businesses. On the other hand, CO2 laser wood cutting and engraving machines are ideal for cutting all types of wood. Other materials you can cut with the laser cutting machine are bone, rubber, acrylic, brick, glass, fabric, aluminum, etc.
Besides the cost reasons, Fiber laser should not be used for wood engraving as it poses serious fire hazards due to uncontrolled beam absorption during the engraving process. Besides, fiber can leave unpleasant marks on wood during the engraving process.
2. Laser Wood Cutting Machines
The laser wood-cutting machines also vary depending on the thickness of the wood and the cutting material they can handle. In the case of wood-cutting devices, there are large and small wood laser cutters. The wood-cutting machines are usually categorized based on type, power, working area, and usage.
1) Large Wood Laser Cutter
Large wood laser cutters are often used for industrial use and are more powerful. These wood laser cutters have a large working area and more power. When it comes to laser cutter machines for wood, CO2 laser cutters are a better option. They come in capacity ranging from 40W to 300W. However, if you want it for hobby or professional use, the range should be between 30 to 120W. The higher the laser power, the more thickness the wood laser cutter and engraver can handle.
2) Small Wood Laser Cutter


Our Nova Series can achieve faster and flawless cutting performance with less noise. With our original Dual Air-Assist, 3D cutting is feasible.
Laser Type: DC CO2
Work Area: 600 x400 up to 1600x1000mm
Laser Power: 40w, 60w, 80w, 100w, 130w
Z-axis: 155mm, 225mm
Small wood laser cutters can be used when you want them for home use or small projects at your home. Usually, diode laser cutter machines are recommended that can handle up to 10mm thickness and range from 1 W to 10 W laser power. You can also opt for lower-end CO2 laser cutters that can handle more thickness.
IV. Tips for Laser Engrave Wood
When using laser engraving machine to carve wood, the parameters of laser engraving machine are very heavy. The factors that affect the effect of wood carving are: power, speed, gas assist and focal length. Let's look at the effects of different Settings in detail:
1. Power :
The greater the laser cutting power, the deeper the cutting

2.Speed:
The faster the cutting machine, the shallower the cutting

3.Auxiliary blowing:
In order to protect the lens and get the best results when cutting, it is best to use strong blowing

4.The best focal length:
The best focal length can obtain the best cutting effect, in no special application, Lei Yu laser cutting machine using 6mm focal length

V. How To Laser Engrave Wood?
Whether you want to know about laser wood engraving for personal projects or getting in the game as a professional, here are the things you need to know:
1. Wood Properties
When choosing wood for an engraving project, it is essential to study its properties. It will not only save you from the struggle of failed efforts but also save you money. Besides, please put your hands on the ideal wood for engraving.
Irrespective of wood type, here are a few properties you need to consider before picking up a wood-burning laser machine:
1) Aging Of Wood(Growth Rings and Knots) – Pick the wood with fewer knots and growth rings as it is easier to cut, engrave, and use. The fewer irregularities and blemishes, the better.
2) Coloring And Grains Uniformity –The density, coloring, and grain direction of wood can impact the result of the wood engraving project. Therefore, look for wood with higher color and grain uniformity to get the best results.
3) How Much Moisture? –Moisture content of the wood also affects the final results. Ideally, you should go for dry wood to have darker engraving results.
4) What is the Oil and Resin content of wood? –The impact of resin and oil content in wood is also amplified. The higher the content, the better the results.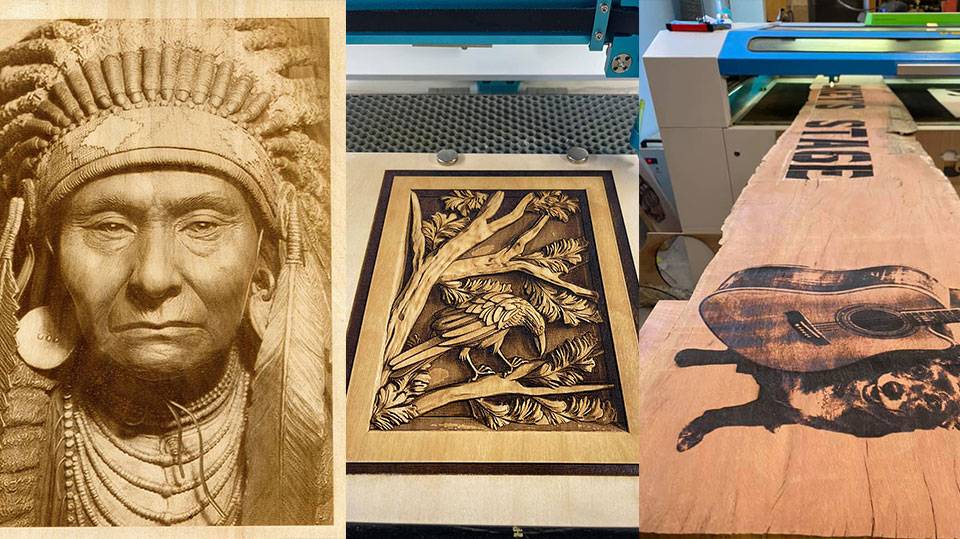 2. Wood Types
You cannot randomly pick any wood and put it under the laser beam for engraving. Campfire wood can set everything on fire, and soaked wood will result in failed attempts. What are the ideal types of wood you should go for when starting a wood engraving project?
Generally, wood is categorized into the following types: soft, hardwood, natural wood, Bamboo, cork, and Balsa. Here are the appropriate wood types you can pick from:
· Birch, pine, cedar, fur, and redwood come under the softwood category. Each wood type has its properties and different impact on engraving and painting. If your project requires softwood, you can pick any of these woods.
· If you want hardwood, birch is a type that comes under both softwood and hardwood categories. However, other types of hardwood are mahogany, cherry, ash, walnut, and oak. Mahogany is ideal for laser engraving but is rarely found among all types. Oak is also easy to work with.
Bamboo is widely used to make cutting boards that are extensively used in engraving projects.
Cork is the type that is fire-resistant and elastic as well.
Balsa is lightweight, cheaper, and perfect for laser cutting.
3. Laser Engraving On Wood: Applications
When you are working on a wood engraving project, there are certain things you must consider. For instance, the edge burn due to engraving, wood type, sheets, the density of wood, thickness of wood, etc., impacts the outcome.
Here are the general implications and applications when you get your hands on a wood engraving project:
4. Choosing The Wood
We already mentioned that density, growth rings, and knots determine how easily you can engrave on the wood. Irrespective of which wood laser cutter machine you opt for, choosing a flat wood with fewer irregularities and knots is better. Similarly, try to find flat sheets if you have to work with plywood.
5. How To Avoid Edge Burn
Edge burn refers to the darkening of the wood edges due to the vaporization of moisture from the wood. Edge burns are common when you use a wood engraving laser machine on any wood. You cannot eliminate the edge burn but minimize it by choosing drier woods having lower resin and oil content.
6. Managing Thickness And Density Of Wood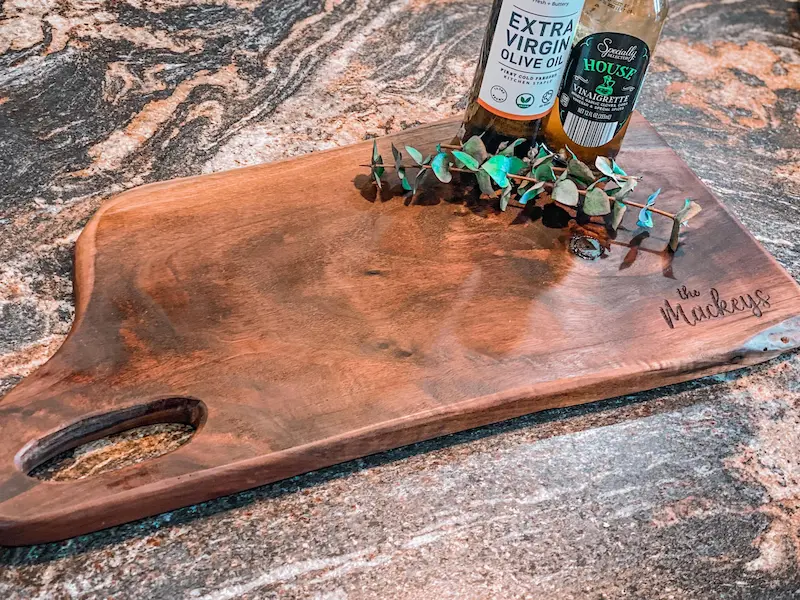 You can purchase any wood laser cutter and engraver, but the wood you come across can vary depending on the projects' availability and requirements. Each laser cutter handles wood thickness differently, and wood density also impacts the outcome.
If you use thick wood than the maximum limit your laser engraver can cut, you can cut the sheets using multiple passes. Besides, you will have to manage your machine's settings according to the hardness and density of the wood.
7.Wood Finishing Tips
How do you ensure that engraved wood's final look is neat, aesthetically pleasing, and how you want it to be?
Here are wood finishing tips for you:
1. Once you complete the engraving, sand the wood surface and apply a finishing coat to lock the engraving. However, ensure to avoid over-sanding as it will damage the engraving.
2. Staining the final engraved wood can enhance natural beauty. You can apply paints or stains to give that final aesthetic touch.
3. Use a rag to rub the wood to eliminate excess soot after completing the engraving.
8. Laser Engraving On Wood: Settings
We already talked about the power, working area, and wood thickness in choosing wood laser engraving machines. When working on a project, you have to adjust the laser power, speed, and other settings according to the type of wood you are using, density, thickness, and cutting/engraving needs. Read the manual and instructions that come with your laser etching machine for wood.
9. How To Laser Engrave A Photo On Wood?
The picture needs to be converted into a sketch before engraving. Because drawing looks more concise than black and white drawing, it can improve the efficiency of our judgment.
You will need professional hands to laser engrave a photo on the wood. If you are someone just entering the field as a professional, here is a quick guide to imprinting photos on wood:
1) Choose the picture you want to engrave and open it in Adobe Photoshop. Use the quick selection tool to remove the background. Once done, convert the image into Bitmap from settings > Image >Mode > Bitmap. Keep the depth to 1 bit and save it as a BMP file. Adjust the contrast of the picture and turn it into a sketch.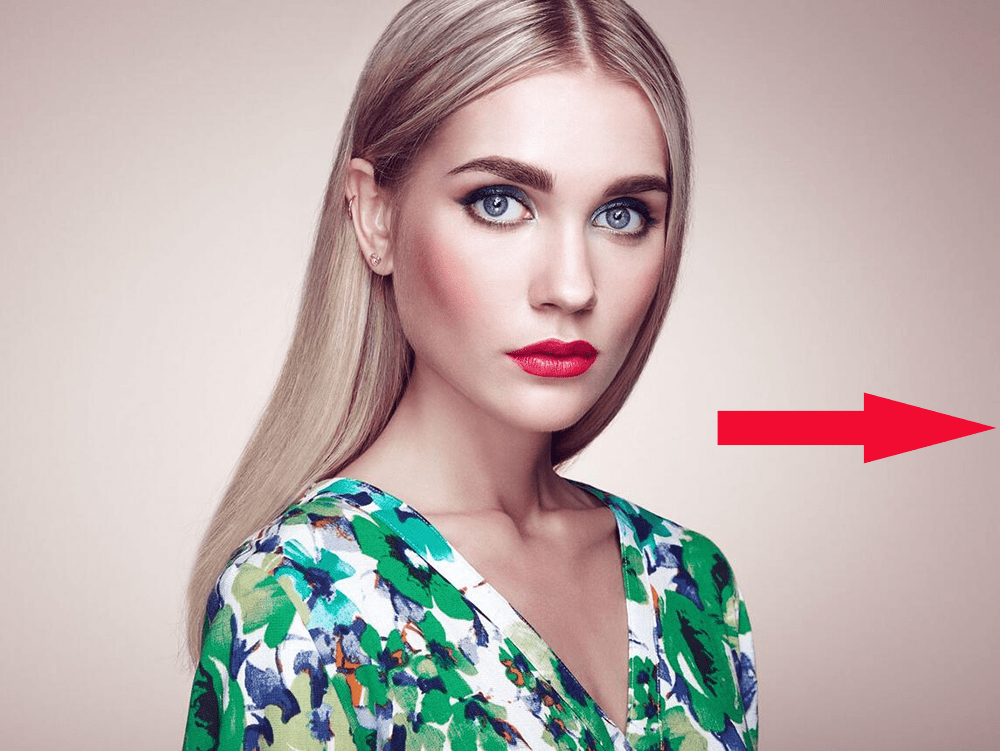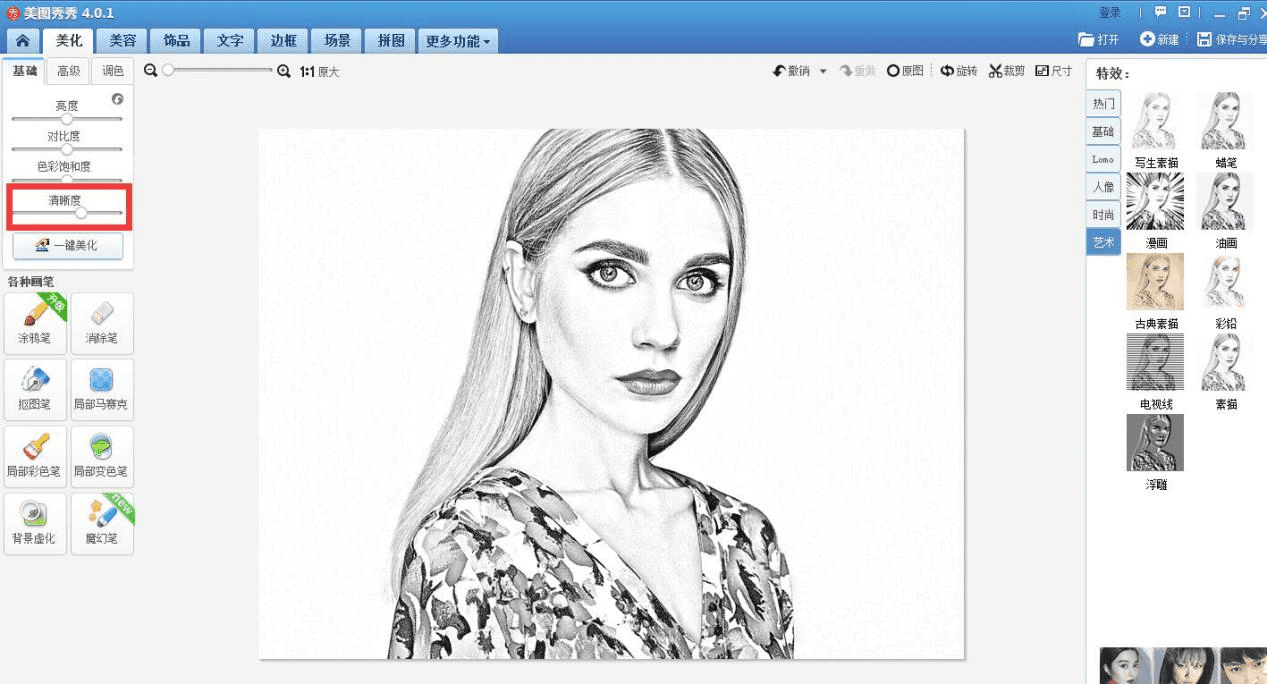 2)Open the picture in your laser program according to the laser cutter machine for wood. Set the image angle and axis according to the wood fibers. Adjust the print so that wood fibers are parallel to the x-axis.
First: power is set to 8%
Second: the speed is set to 500mm/s
Third: Choose blowing for better lens protection
Fourth: because glulam wood is a relatively rough material, so the carving interval is set to 0.08mm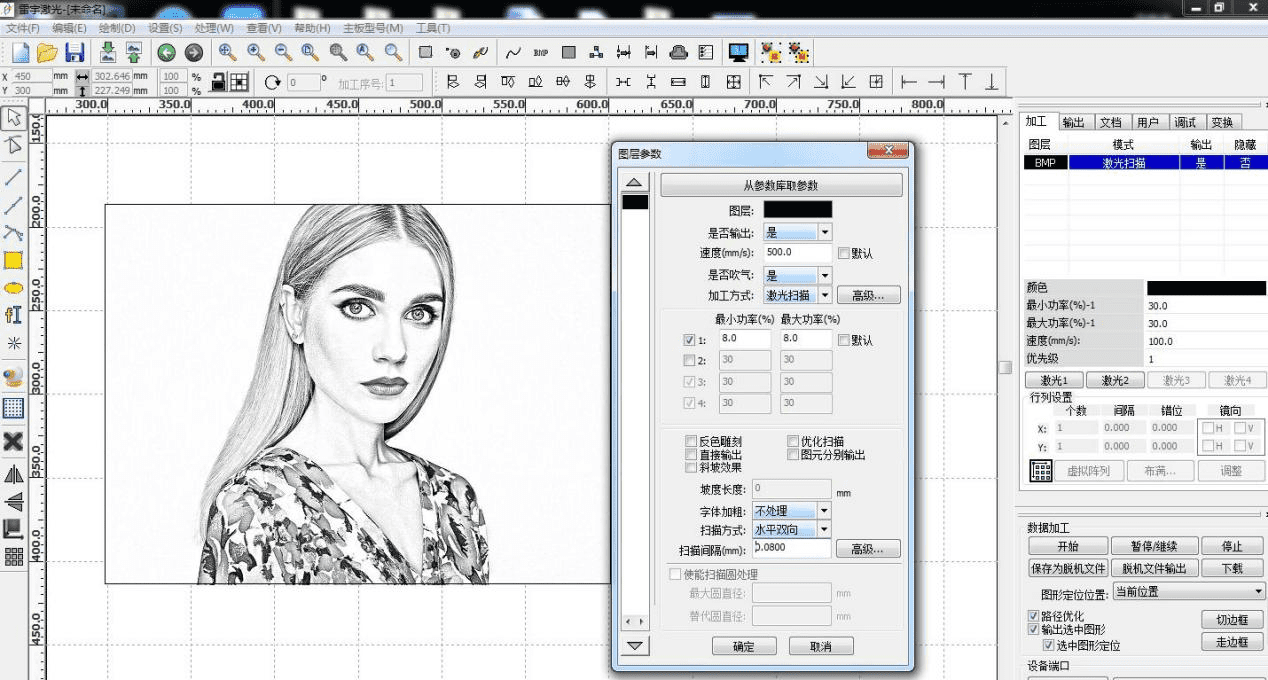 3)Adjust the laser settings for wood engraving and execute the command.
Click BMP and set the resolution to 1500 and frequency to 70.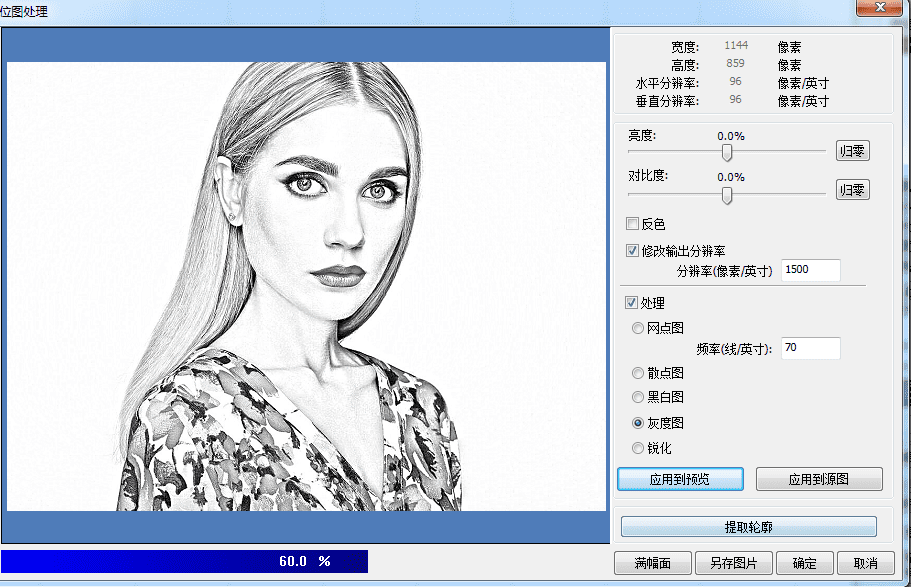 4) Once engraved, use the finishing tips to lock the engrave and have an aesthetically pleasing look.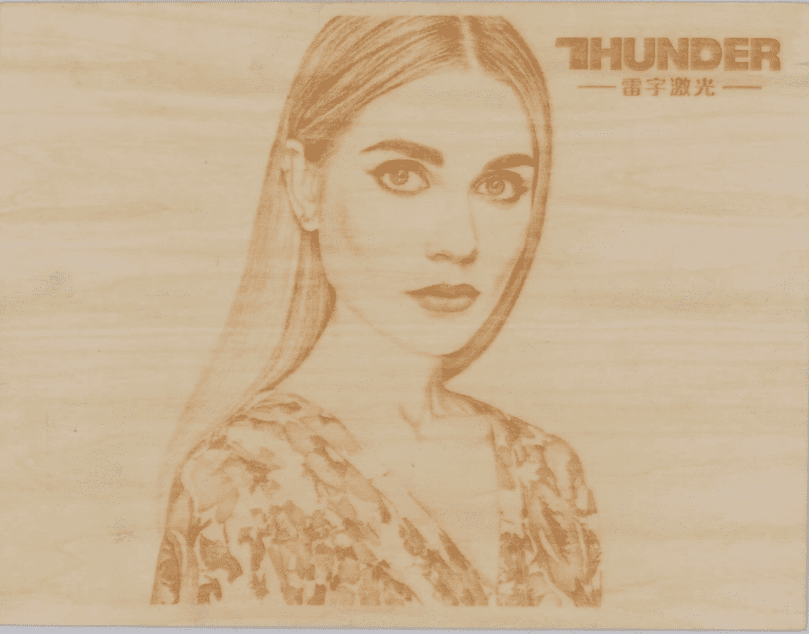 VI. Woods are Not Recommended For Laser Engraving Or Cutting
We have already mentioned the suitable wood types you can use when working on a laser engraving or cutting project. However, there are a few wood types that can't be used for engraving, no matter what. Here is the list of the wood types you don't have to pick:
Exotic hardwoods can be difficult to handle, and the engraving results are not uniform.
2. Mexican elder releases toxic fumes when a laser beam applies to them. Therefore, please don't use it for laser cutting and engraving.
3. Avoid fiberboard as it is made by gluing wood fibers, and the results won't be good.
VII. Laser Wood Engraving Ideas
Here are some laser wood engraving ideas for you to work on as a hobbyist or professional:
1. Laser-cut business cards, wedding invitations, etc.
2. Laser-cut jewelry materials like beads or laser-engraved wooden bracelets
3. Wooden engraved puzzles, puzzle boxes, etc.
4. Wooden lamps with wooden engraving
5. Bookmarks made of bamboo wood with laser engraving
6. Giant logo signs for your office space
7. Wooden chandelier for living room with laser cutting
FAQs
1. How much is a wood laser engraver?
The price of a wood laser engraver can depend on the wood laser engraving machine manufacturer, laser technology, power, working area, etc. Generally, you can expect the price to be anywhere between $150 to $1000 for personal-use engravers. Industrial engravers can cost even more than $7000.
2. How do you laser engrave wood without burning it?
You can modify the laser engraver settings, power, etc., to avoid burning during the engraving process.
3. Can you engrave with a CO2 laser?
The CO2 laser is an excellent engraver for wood cutting and engraving.
4. How thick of wood can a laser engraver cut?
Depending on laser technology and the power of the laser, the wood thickness an engraver can handle will vary.
5. What kind of computer do I need for a laser engraver?
You can use any modern computer or laptop to operate the laser engraver. However, you will need the respective hardware or software to perform the engraver.