Laser engraving machine has opened vast opportunities for small businesses. This powerful device enhances its product's customization capabilities. However, a laser engraver machine utilizes a focused laser beam to engrave various materials. Wood, acrylic, glass, metal, and leather are popular in small businesses. This technology also opens up possibilities for small businesses to create unique products. It boosts brand images and caters to the growing demand for customized items. Therefore, considering "the best laser engraver for small business" is crucial for your success.
This article creates a comprehensive guideline on "the laser engraver for small business" and its fundamentals. It explores the scope of using a laser engraver machine in engraving businesses. It also highlights two popular devices that successfully helped a lot of customers. Thunder Laser Odin 22 and 32 models are potential options here. This article provides valuable insights and information to help you make informed decisions.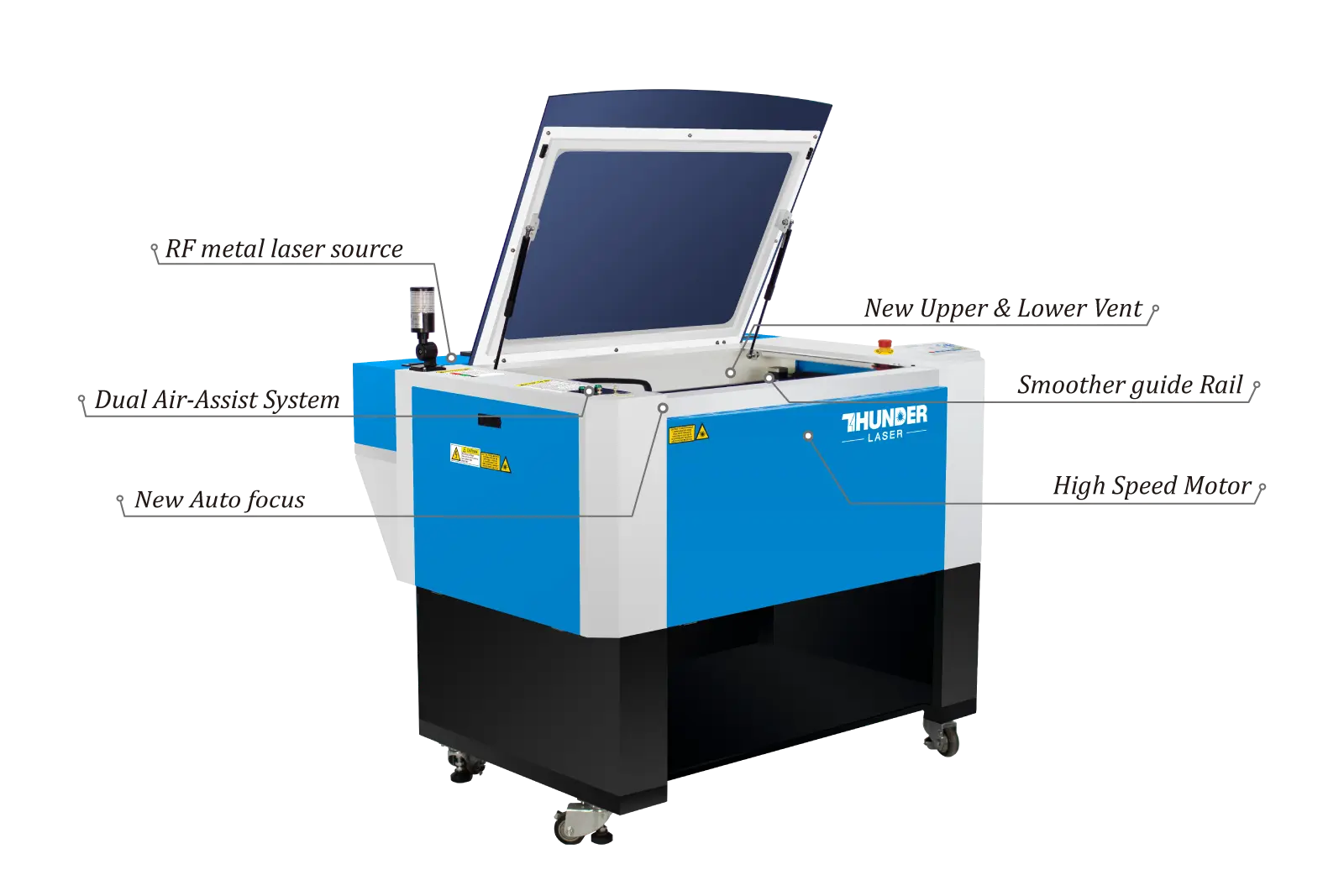 Laser engraving machines offer numerous applications in small businesses. It allows you to create personalized designs, logos, or text on laser-engraved products. Besides, laser engraver machine works on various materials, like wood, acrylic, glass, metal, and leather. However, you can create a wide range of products using a laser engraving machine. Here are some popular products a laser engraving machine often manufactures.

Personalized gifts: Keychains, photo frames, jewelry, wine glasses, and custom-made items
Promotional Products: Pens, USB drives, drinkware, coasters, and corporate gifts
Custom Signage: Business logos, events, weddings, and home décor
Fashion and accessories: Clothing, bags, shoes, belts, wallets, and personalized accessories
Awards and recognition: Plaques, trophies, medals, certificates and commemorative items
Home Décor: Wooden or acrylic home decor, coasters, and wall arts
Industrial and manufacturing: Product's serial numbers, brand logos, and part marking for electronics
Personalized stationery: Business cards, invitations, and custom notebooks
Wedding and event décor: Wedding invitations, table numbers, place cards, and party favors
Customized electronics: laptops or phone cases, power banks, and custom-designed tech accessories
Pet accessories: Pet tags, collars, beds, and personalized pet-related items
Engraved utensils and kitchenware: Utensils, mugs, glasses, and personalized kitchen accessories
Awards and Trophies: Sports trophies, academic awards, and recognition plaques
Customized jewelry: Rings, bracelets, pendants, and customized jewelry pieces
Architectural designs: Decorative elements for interior design and architectural projects


Best Laser engraver for small business: Thunder Laser – Odin 22 and 32
The above business ideas are most popular nowadays in the laser engraving market. All these you can easily do with Odin 22 and 32 models from thunder laser. These two models would be the best laser engraver for small businesses. Here is the fundamental difference between Thunder Laser Odin 22 and 32.
| | | |
| --- | --- | --- |
| Laser System | Odin 22 | Odin 32 |
| Laser tube wattage | 30 watt | 55 watt (Coherent) |
| Working Area | 559 x 381 mm (22″ x 15″) | 813 x 508 mm (32″ x 20″) |
| Table Size | 625 x 440 mm (24.6″ x 17.3″) | 899 x 567 mm (35.4″ x 22.3″) |
| Max Part Size (W x L x H) | 625 x 440 x 190 mm(24.6″ x 17.3″ x 7.5″) | 879 x 567 x 190 mm(34.6″ x 22.3″ x 7.5″) |
| Dimensions (W x D x H) | 1030 x 860 x 1090 mm (40″ x 34″ x 43″) | 1284 x 987 x 1090 mm (51″ x 39″ x 43″) |
| Z-Axis Height | 185 mm (7.3″) | 185 mm (7.3″) |
| Net Weight | 125 kgs (276 lbs) | 167 kgs (368 lbs) |
Besides the above differences, there are some similarities between them. Firstly, both laser devices use radio frequency laser tubes with air cooled cooling system. Secondly, they can operate at a maximum speed of 200 mm/s. Thirdly, the resolution for both devices is controllable from 100 to 1000 dpi. Fourthly, you can work with both devices on popular laser engraving software.


Benefits of using a laser engraver in small business
Laser engraver machine is so popular nowadays. It is such popular because of its diverse advantages. In this case, the above two chosen models offer all these benefits. Here are some benefits of using a laser engraver in small business.
Advantages over traditional methods: First, a laser engraver machine offers versatility. It works on all popular materials like wood, acrylic, glass, and metal. Second, it is a non-contact process. Therefore, this device eliminates the risk of damage to fragile materials during engraving. Third, an engraving laser machine provides precise and accurate engraving. As a result, it allows for intricate details and fine lines. It is important to note that getting such precision results is challenging with traditional methods. Fifth, the laser engraving machine can be programmed to repeat designs. It reduces human error and increases productivity. Finally, laser engraving produces minimal waste compared to the traditional method. Therefore, a laser engraving machine is environmentally friendly.

Precision, speed, and consistency: A laser machine offers exceptional accuracy and speed. It allows small businesses to complete orders quickly. In addition, it also meets customer demands efficiently.

Ability to create complex patterns: A laser engraving machine can achieve fine detailing. It allows businesses to accurately engrave intricate designs, small text, and delicate patterns. Besides, the device can reproduce complex patterns with ease. As a result, it allows businesses to offer unique and artistic designs to their customers.

Low maintenance requirements: Laser engravers typically have low maintenance requirements. It reduces downtime and ensures businesses can operate smoothly without significant upkeep.

How to choose a suitable laser engraver for your business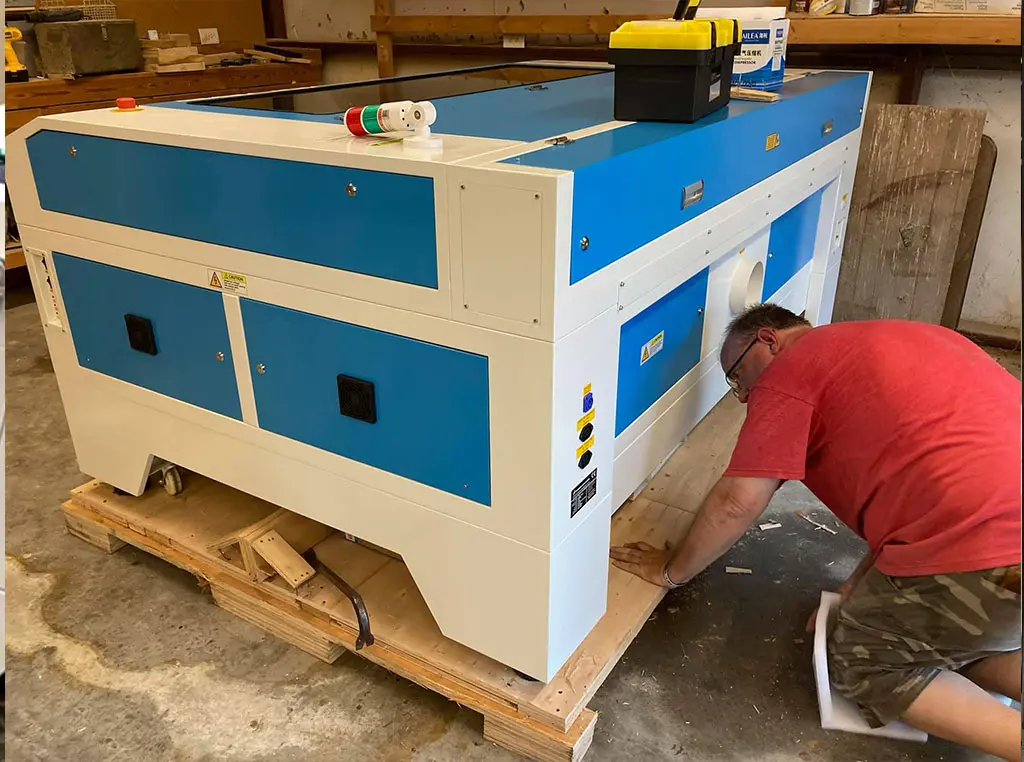 Laser engraving is an excellent technology for running a small engraving business. There are thousands of manufacturers selling their machines in the market. Due to the ease of technology, people can easily buy the laser engraving machine from nearby markets. In this case, some devices are incredibly cheap, and some are expensive. Are all of them suitable for your project?? No, we must find our project's most suitable laser engraving machine.
Key factors to consider
The machine's specification is the primary factor you should consider before buying it. Every device comes with unique features and specifications. Therefore, the following key points are necessary for choosing the best laser engraving machine.
Engraving area: Evaluate the size and dimensions of the items you plan to engrave. In this case, ensure a large enough engraving area that accommodates your products. Also, consider future scalability as well.

Laser power determines the engraving's depth and speed. Consider the materials you'll work with and select a machine with suitable laser power. Additionally, assess the type and quality of the laser tube, such as CO2, Fiber, or UV lasers. It is important to note that the kind of laser tube affects the machine's overall performance and durability.

Software compatibility: Check if the laser engraver is compatible with the design software you plan to use. User-friendly software with intuitive interfaces can save time and reduce the learning curve.

Budget: Determine your budget for purchasing and consider the long-term return on investment.

Technical support and warranty: Ensure the manufacturer provides reliable technical support and assistance. Look for a laser engraver with a guarantee that covers the machine, laser tube, and other essential components.
Following the required instructions
Following expert instructions is essential after considering the necessary specification factors. We have already outlined the specific features you should check in a laser machine. Now, follow the step-by-step process mentioned below.
Step #1, research and compare different laser engraver brands and models popular in the laser market. In this case, compare their features, specifications, and customer reviews. It will also help you to identify the best options for your business.
Step #2, consider the specific needs and goals of your business. In this case, you can check the volume of engraving, desired speed, and types of materials you'll work with.
Step #3, read customer reviews with experience with the specific laser device. In this case, you can seek recommendations from professionals who have used similar equipment. You can also consult thunder laser customer service for more information. They can provide valuable insights and advice to help you make an informed decision.
Step #4, test the equipment or request samples. In this case, you can visit a local supplier or attend trade shows to observe the laser engraver in action if possible. In addition, you can test the machine with sample materials to evaluate its performance quality.
Conclusion
In conclusion, laser engraving machine is a versatile and reliable technology. These devices also offer a wide range of benefits. Therefore, you can use them in various applications and create millions of attractive products. We have highlighted the most popular products you can make for starting a small laser engraving business.
We have also brought "the best laser engraver for small business," thunder laser Odin 22 and 32. These two models can create all the products mentioned in the previous sections. They are also famous as the best "laser engraving machine for metal" and "laser engraving machine for wood." Concerning these models, the laser engraving machine price is also budget-friendly. Besides these models, you can also find the "mini laser engraving machine for metal." These mini laser machines are especially suitable for the jewelry industry.
However, we have also discussed choosing a suitable laser engraving machine for your project. We have stated some key factors to consider and expert instructions in this case. You can consult with thunder laser customer service if you have further questions. Above all, they can provide valuable insights and advice to help you make an informed decision.