On May 30, King, the General Manager of Thunder Laser flew to Nantong, jiangsu province along with the staff to visit Nantong Zhuorui Laser Technology Co., Ltd, and was welcomed by Zhuorui Laser.
Established in 2009, Zhuorui Laser is dedicated to developing and producing the medium and small power CO2 lasers.
Accompanied by General Manager of Zhuorui Mr. Zhan, we visited the company's aging workshop, SMT workshop, etc. During the time we saw that the factory is in good order under good management. Both general managers made communication on laser equipment market situation with each other. For the development in laser industry, Mr. Zhan expressed full confidence. Zhuorui Laser focuses its research and development on medium power laser tube, so as to open the new industry demand with this fist product.
Mr. Zhan knows well about laser specialized knowledge and industry information. In terms of materials choice, he tends to use high quality materials or customized materials. King and Mr. Zhan also communicated about the craftsmanship of medium laser tube producing and shared some techniques. In addition, they discussed the advantages and disadvantages of the two tubes combining technology and the single tube two cores technology. These two kinds of technology are the main solutions for producing medium power glass laser tube in China at present.
This visit enabled us to collect more information of laser industry, which is of great significance for future developing of our company.
Mr. Chen and Mr. Zhan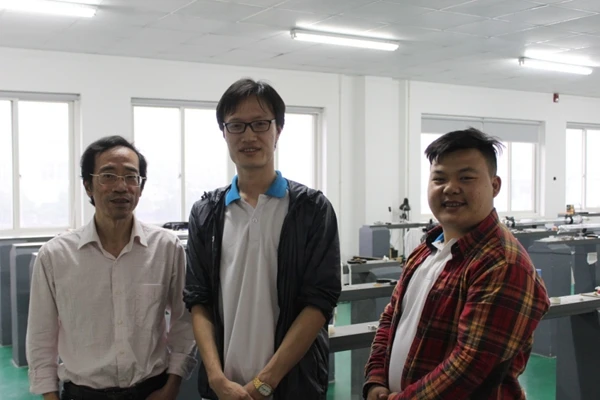 SMT workshop