Laser engraving is getting more and more popular nowadays. Starting from paper, you can engrave almost every material under a laser engraving machine. A laser engraver for stone is an excellent investment for a laser engraving business. However, providing stone engraving services can be a profitable business too. Therefore, it is necessary to understand the fundamental parameters of a laser stone engraver and know how it works.
Engraved stone is prevalent in many indoor and outdoor applications. There are different types of rocks that you can laser engrave for various purposes. In the later section of this article, we will know some common stone types suitable for laser engraving. However, engraved stones are also popular as gifts, decoration items, or fundraisers. In addition, building a house with attractive laser-engraved stone will surely add extra value to it.
Laser stone engraving is a typical laser engraving process. With the help of laser technology, you can draw all types of art and calligraphy on the rocks. It may also include engraving photos and words. Laser engraving on stone is a unique and latest technology. We will learn why you should choose a laser engraver for stone. In addition, we will also know some typical laser engraver types and find the best laser stone engraver.
Why do you need a laser stone engraver?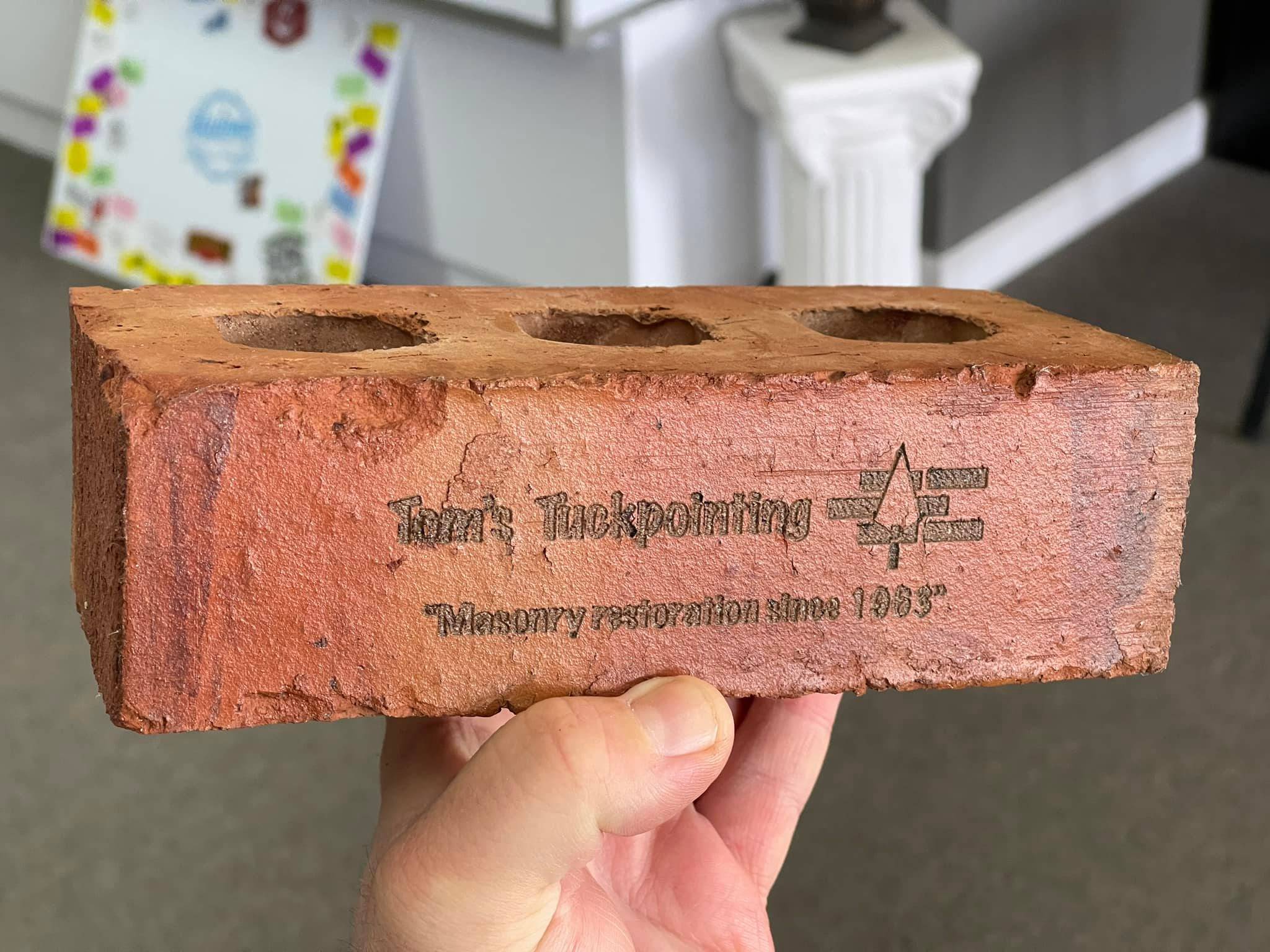 Laser engraving on rocks can replace traditional engraving methods. These traditional engraving methods might include polishing, hammering, and sandblasting. However, it would be best to choose a laser machine for engraving. Why? Because this stone laser engraving machine offers a wide range of benefits.
Precision engraving and quality finish: Laser engraver for stone provides the highest precision. Since this is a non-contact process, the finishing of the engraved stones comes with the highest quality. High-speed laser engraving requires less labour resulting in optimal production cost.
Versatility: As laser beams create precision engraving, thus you can engrave every art or calligraphy. The laser engraving software converts these designs, decorations, or effects into machine code. You can also engrave all rocks, stones, or concretes based on your required application.
Safety: As mentioned, laser engraving is a non-contact process. In addition, it comes with a class-1 protective enclosure. It ensures the job is safe and keeps the area clean and tidy.
Low environmental Impact: Laser is an example of green technology. It doesn't impact ecological factors such as air, water, or land. Since the laser engraving process doesn't create pollutants, it is environmentally friendly.
Add product value: Laser engraver for stone adds product value. We know engraved rocks are famous for decorations, construction, and fundraising applications.
Best engraver for stone: Odin Laser rock engraving machine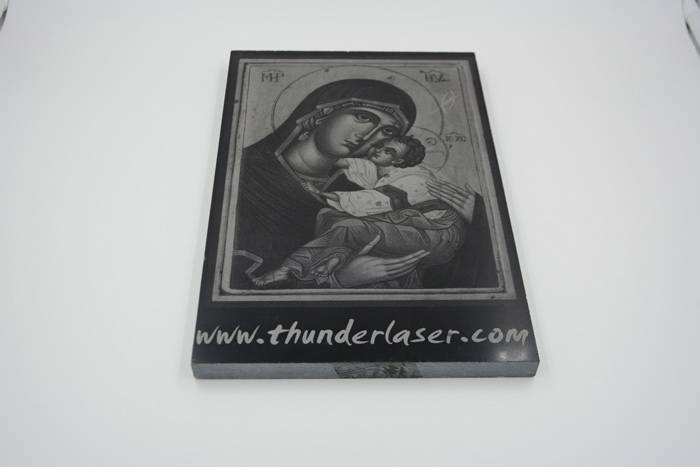 A perfect laser engraver machine provides excellent engraving results. Therefore, everyone looks for the best laser engraver for their business. But many of them fail to choose a suitable laser engraver for stone. If you are looking for a suitable laser stone engraver, this article will lead you to the right decision.
The Odin laser engraving machine is the best option that you can choose for your project. This laser stone engraver comes with excellent features and capabilities. This CO2 laser engraver is ideal for engraving a wide range of materials. These materials might include wood, acrylic, cloth, stone, glass, rubber, and plastics. It has two models: Odin 22 is 30 watts, and Odin 32 is 55 watts (coherent). Their working area is 559 x 381 mm (22″ x 15″) and 813 x 508 mm (32″ x 20″), respectively. It is important to note that Odin 32 is the best option for laser engraving stone.
Odin Laser engraving machine offers 2000mm/s engraving speed, thanks to the Japanese oriental motor. This machine also provides excellent engraving resolution of up to 1000 DPI. However, it is a fully automated laser engraving machine with a class-1 laser enclosure. This machine is ideal for every laser engraving project. It is safe and reliable. Therefore, choosing this laser engraver for stone would be the best decision for your business.
How to choose the best engraver for stone?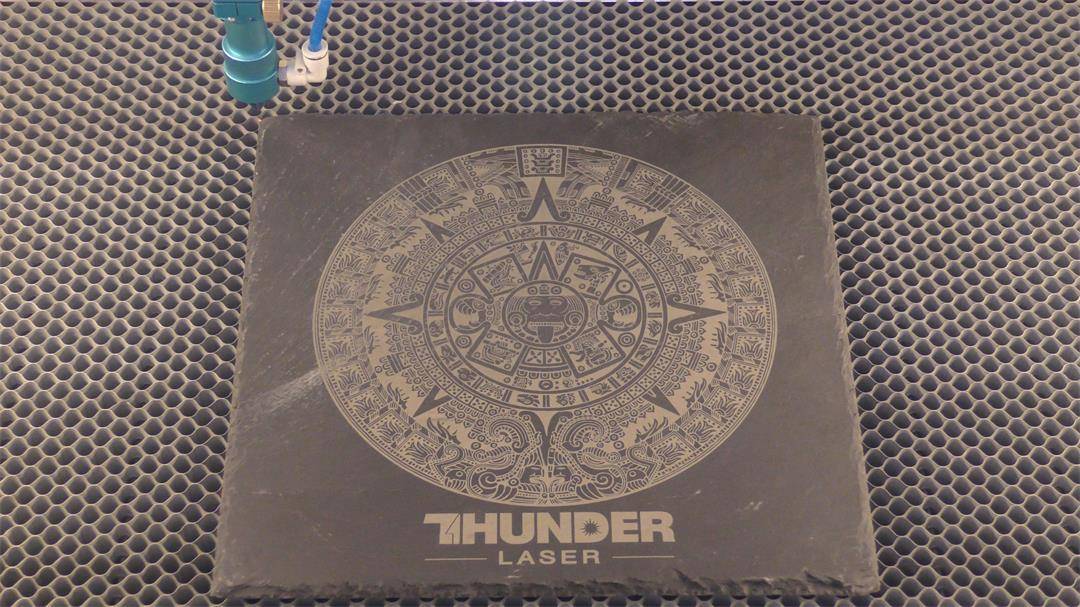 While choosing a laser stone engraving machine, you should know some typical parameters of the device. There are two types of parameters: process parameters and machine parameters. Process parameters include power and pulse frequency, stone laser engraving speed and time, and laser source. On the other hand, machine parameters include additional services, after-sale services, and budget.
These parameters determine the quality of a laser rock engraving machine. In addition, they will also lead you to the right decision. Therefore, it would be best to know these parameters before buying a laser engraver for stone.
How to do laser stone engraving? 
It is a typical laser engraving process, but the material is different. However, we have classified the laser engraving stone into four easy steps.
Preparation
Prepare the type of stone you want to engrave. Before placing it, ensure the stone is clean and free from dirt. If it is necessary, try to clean it first. After that, place it on top of the working table. Try to put it at the centre of the functional area.
Choose a design
Choose a design, calligraphy, or text you want to engrave on the stone. You can customize the design and direction using stone laser engraving software. After that, set the laser power and speed of the nozzle. Usually, we recommend the average value of these parameters to our beloved customers. Therefore, you can get a general idea of what range of power and speed you should set for what type of materials. The following table highlights the average value, especially for stone.
| | | | | |
| --- | --- | --- | --- | --- |
| Stone Type | Power | Speed | Resolution | Z-index |
| Marble | 50% | 20% | 1000dpi | -0.5mm |
| Slate | 20% | 100% | 500dpi | 0 |
| Concrete | 100% | 20% | 500dpi | 0 |
| Pebbles | 80% | 30% | 500dpi | +2 |
| Basalt | 12% | 50% | 500dpi | -1 |
| Agate | 50% | 30% | 1000dpi | +1.5 |
| Bricks | 100% | 30% | 500dpi | +1.5 |
Start the rock engraving machine and get your tools ready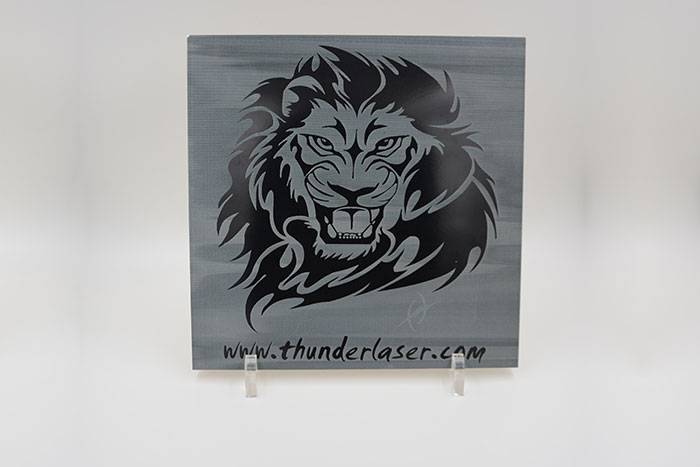 After you set the power and speed of the laser engraver for stone, now you should check the focus point of the laser gun. Place the red rectangular light on top of the rock where you want to engrave the design. Now, close the enclosure and start the process.
Finishing
After engraving the stone, the dust and contaminants will remain. Therefore, you may need an additional step for polishing and giving it a good look.
What types of stones are suitable for laser engraving?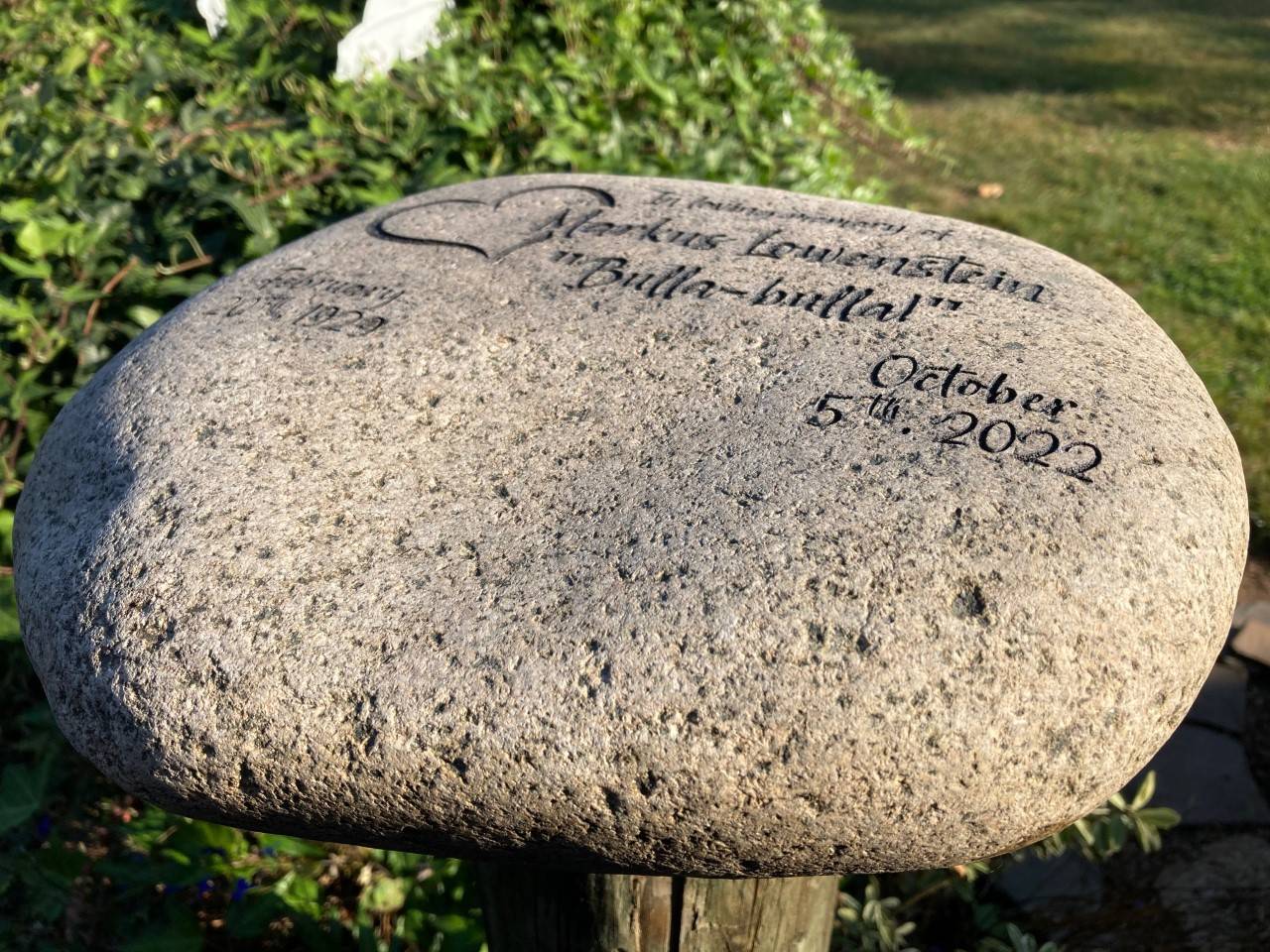 All types of rocks are suitable for laser engraving. But quality may not be similar for all of them. Quality finishing requires a polished and flat surface so that the stone's surface can not distort the final result. Therefore, a smooth, clean, flat surface provides the best results. However, if you want to engrave a round surface, you can install a rotary attachment or modelling clay. The following types are the most common stones that are widely popular in stone engraving businesses.
Granite
This stone is the most common and comparatively cheap than other rocks. It consists of 10% to 60% of quartz and feldspar. The higher the quantity of quartz, the more robust and durable stone. Typically, higher quartz granite is ideal for outdoor applications. However, other factors may also alter the quality of the engraving, such as colour, grains, fossils/veins, and composition.
Slate
This stone is traditionally popular as a construction material. It is one type of natural rock famous for its strength and excellent resilience. These properties make this rock one of the most durable stones for roofing. However, laser engraving increases the beauty of a slate. As a result, you may find these engraved stones in gift and decorations shops.
Marble
This stone is a metamorphic rock that comes in various colours. Besides, it has a smooth polished finish surface. Therefore, laser engraving on marble stone is highly noticeable. As a result, people love this type of engraved stone as a gift or decoration.
Ceramics
Bricks and tiles are the most common ceramic materials for laser engraving stone. However, these two ceramics are famous for fundraising, memorials, or decorations.
Pebbles and Agate
These two types of stones are more beautiful than other stones. However, pebbles are small rounded stones primarily found in rivers and fountains. On the other hand, agate is a typical rock formation that comes with a wide variety of colours.
What power laser engraves stones?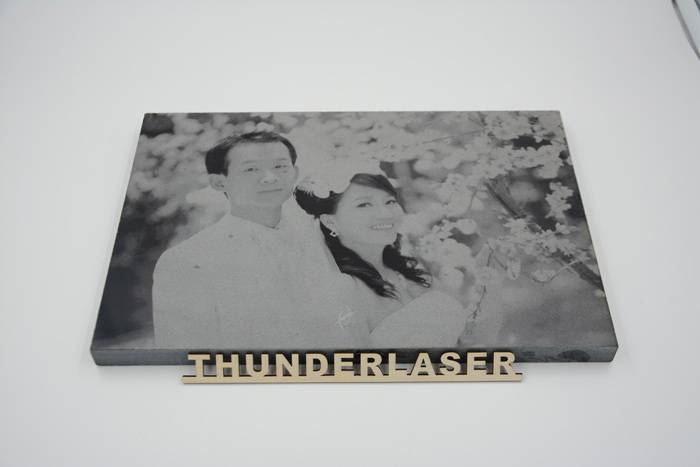 Depending on the type of stone, we recommend choosing a laser power between 30W and 60W. Although, on marble, granite, or slate, the recommended minimum laser power is 40W. Therefore, you can engrave all stones using the Odin 32 model from Thunder Laser. Besides, the power density and speed can be different, too, based on the material type. Check the second step of the stone engraving process.
Summary
Laser-engraved stone is a modern construction equipment for fancy houses and memorials. Since laser-engraved designs last long, it is popular in fundraising applications. Besides, marbles, pebbles, and agates with laser-engraved characters are excellent gift items. Therefore, starting a stone engraving can be a profitable business. All you need to do is to choose a suitable laser stone engraving machine. We have already mentioned some critical parameters you should consider in this case.
Thunder laser is a leading laser machine manufacturer in the world. This company produces high-quality laser machines which provide the best performance. However, if you feel any questions, don't hesitate to contact us. You can contact them either through email or phone, or WhatsApp.